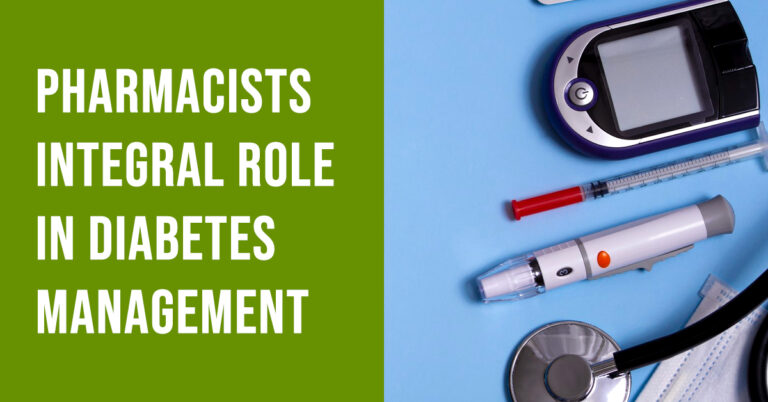 Pharmacists integral role in

Diabetes Management

- 15MinRx
About 34 million Americans are tormented with Type 2 Diabetes, a serious long-term health condition that threatens the quality of life. We are aware that its incidence and prevalence are skyrocketing globally every year, and it is acknowledged as an epidemic. 
The American Diabetes Association strives to raise awareness for the prevalence of diabetes. At 15MinRx, we take an opportunity to help patients gain knowledge and debunk Myths that appear on Internet's headlines and help patients manage this Chronic Condition. 
Uncontrolled and undiagnosed diabetes eventually leads to an emergency state and evokes jeopardies for patients. Fortunately, pharmacists play an integral role in identifying these risk factors and decreasing patients' costs and care burdens. Management in Diabetes requires patient engagement and adherence to HIV Medication which could reduce the risk of diabetes complications. 
What is the role of Pharmacists?
With an expanding armamentarium of diabetes medications, pharmacists play a key role in selecting medicines, maximizing efficiency, depreciating side effects, and knocking off the barriers by providing the right advice, therapies as per their comorbid situation and lifestyle.
The role of community pharmacists is considered paramount in proferring advice, performing 
Covid Antigen Test Jacksonville
, compounding medications, and improving medication adherence to managing complex diseases. It is estimated that, on average, a person enduring diabetes frequently visitings pharmacies three to eight times more correlated to other patients. 
Pharmacists grab the spotlight by providing approaches, counseling on improving lifestyle factors, state-of-art medications, enhanced medicine compliance, and alternative therapeutic intervention to improve the present condition and treat Diabetes. 
Being a community Pharmacist, they should be able to identify early stages risk factors and provide optimal solutions to collaborate with the ablest doctors, therapies, and healthy lifestyles. Pharmacists' primary role is to educate individuals, recommend monitoring devices, and encourage them to use products and services.
What do Pharmacies offer for diabetes care?
At 15 MinRx, we offer individualized care plans as per your comorbidities, risks from polypharmacy, and the ability to benefit from long-term intervention to help people manage their Diabetes, condition and prevent further complications.
Beyond it, our experts can provide you:
Blood glucose monitoring system
Foot Care stocks
Alternative therapies
Nutritional supplements and weight loss products
Diabetes Screening Services
Covid Antigen Test Jacksonville
Other tests
With emerging advancements in technology and therapies, the sheer number of options for diabetes treatment has augmented substantially over the past years. Pharmacists' role is imperative to help patients understand the fundamentals and intricacies regarding the medications.
Studies have shown that pharmacists' intervention in diabetes care, from intensive education to medication regimens, can improve the treatment outcomes and improved quality of life. Some pharmacists provide independent prescribing, integrating compounding medication to provide holistic treatment and the best possible disease management.
At 15MinRx, we collaborate and contribute patient-centered care with our clinical expertise and veteran pharmacists who tailor plans to provide positive health outcomes and manage active lifestyles. We provide a multidisciplinary approach and deliver exceptional clinical care in the management of patients with diabetes.