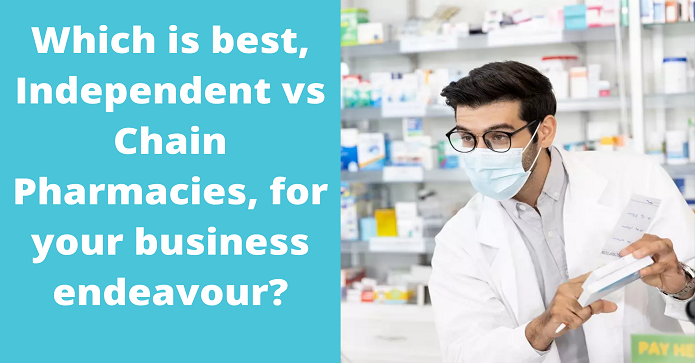 Which is best,

Independent vs Chain Pharmacies

, for your business endeavour?
The difference between chain pharmacies and independent are not just a phenomenon of square footage, but it's more likely about the ownership, business model, distributing medicines, processing prescriptions, monitoring drug adherence, customer services and of course, prices.
If it is filling your prescription, there are online resources, local chain stores, convenient medical stores and "big box pharmacies." It is customary to run to the nearest chain pharmacies, either to fill your OTC or complex medications needs, because chain pharmacies have extensive over-the-counter medications and other items too that are found at convenience stores. However, chain pharmacies are not the optimal choice when it's just about filling prescriptions. In most situations, it's better off going to local, independent pharmacies instead of chain stores.
Independent vs Chain Pharmacy
Chain stores boast the convenience by providing carry items in large sizes or quantities. They offer several locations and easy accessibility.
Independent Pharmacies Independent pharmacies can offer much more compared to chain pharmacies. They have the advantage of a niche market and amp their business to a whole new level. Independent offers valued local health resources, personalized care to meet the demands of the local community. They identify and leverage specialized services, address unique health concerns, provide convenient service, adherence support, immunization, point of testing care and preventive care options, which are excellent ways to lure customers while giving an edge to competitors of chain stores.
Mom-and-pop pharmacies provide specialized services, including:
Travel vaccines
Wellness testing
Hospital Discharges
Fertility Treatments
OTC
Generic Drugs
Compound medications and much more.
Stats for Chain vs Independent Pharmacies 
Chain Pharmacies like Walgreens, Amazon and others line the streets of the neighborhood throughout the country and hold roughly 40% of the prescription market. Their presence has grown substantially in recent years.
With the rise of big-box pharmacies, independent pharmacies have not come to an end. In Texas, the community pharmacy accounted for 53% of the state pharmacy market.
Checklist before choosing one:
Pharmacists go through preliminary steps to mitigate common mistakes and lead towards final steps for the grand opening of their pharmacies; they include:
Develop business plan
Finance
Liability insurance for pharmacy
Physical layout
Signing reimbursement contracts
Licensing
Management system
Lining up with distributors
Hiring pharmacy personnel
Conclusion 
In a competitive industry, independent communities thrive due to their unique niches and carrying the legacy of providing personalized care. Independent pharmacies are for you if you can take up the responsibilities and complete the burden on your shoulders while balancing the ecosystem.
Suppose you are a person who likes to run the show without overstretching about financial power, decision making and redefining marketing strategies with an ever-changing market. In that case, Chain pharmacies are an option for you.
There is no doubt that independent and chain pharmacies are redefining healthcare and continue to play an impactful role in maintaining the quality of life.
15MinRx serves the state of Jacksonville and offers competitive pricing on prescription, compounded medications and over-the-counter drugs. Our team of knowledgeable and skilled pharmacists thrive to provide the best services to foster the health and well-being of the community.